Are Electronic Cigarettes Legal to Smoke in Public?
In Bars and Restaurants, Airplanes and Airports, E-smokers are Testing the Boundaries.
By Bob Parker, Quit Smoking Comparison Editor and Adam Quilton, Quit Smoking Comparison Contributor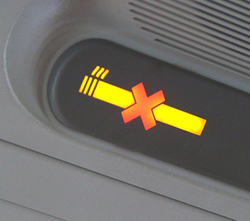 To begin with, we should note, that as of right now the federal government has absolutely no regulatory power over electronic cigarettes. In a federal court decision at the beginning of 2010, the FDA was forbidden from exercising any authority over these devices. The judge chastised the agency saying that its seizure of electronic cigarettes was "yet another example of FDA's aggressive efforts to regulate recreational tobacco products as drugs or devices" and part of a "tenacious drive to maximize its regulatory power."
Where Federal Power Ends, States Electronic Cigarette Laws Begin
But just because the federal government can't regulate electronic cigarettes right now does not mean the states are also forbidden. In fact, as we all know, state and city governments are able to pass their own laws on where and when people can smoke within their borders. While we may very well see over 50 separate sets of laws for smoking electronic cigarettes throughout the country, the trend as of mid-2010 is encouraging.
Acknowledging Health Benefits, States are Permitting Electronic Cigarettes in Public
In Virginia at least, Attorney General announced in May of 2010 that electronic cigarettes are not to be treated like traditional cigarettes under the State's smoking rules. While he did not specifically mention any health benefits, his opinion noted that the electronic cigarette does not emit 'smoke' under the law and that there is no combustion involved. Representative Peace of Virginia went further, however: "Common sense tells you that if the purpose of the smoking ban was to create a healthier atmosphere and reduce the individual emissions in a defined space, if you will, with second hand smoke, the e-cigarettes doesn't seem to fit any of those parameters."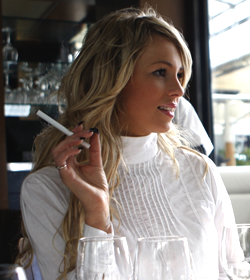 In most of the other states, for example Massachusetts, Kansas, Maryland, Florida and the District of Columbia, electronic cigarettes' popularity has gone relatively unnoticed by the legislatures. While news stories highlight their increased visibility in bars and restaurants, non-smokers have very little to complain about. In fact, through our experiences and many commenters on Quit-Smoking-Comparison.com, non-smokers have been amused, curious, and even thankful that smokers are using e-cigs as an alternative. This type of reaction does not usually lead to the passage of laws.
Still, there are states that have passed laws for electronic cigarettes like traditional cigarettes, but mostly in order to regulate how retailers sell them to the public; namely behind the counter and with an ID. These laws, passed in states like Minnesota, New Hampshire and California, are purely to ensure that underage minors do not have access to any product that might create a Nicotine addiction.
Electronic Cigarette Legal Trends for the Future
We are likely to see a lot more laws and regulations on electronic cigarettes as they become more popular in the United States. Still, common sense dictates that where no second hand smoke dangers arise from these devices and no offensive odor is created, and significant health benefits over traditional cigarette smoke is likely – the large majority of our country will not see laws banning their use.
Electronic Cigarette Law Updates
Because the e-cig market is so new, and laws are changing rather quickly we're going to amend this article from time to time to reflect these changes. Return as often as you like, and we'll try to keep the info current. Thanks!
Richmond, Virginia – December, 2010 – An appeals court upheld the decision in the lower federal court to restrict the FDA's actions last January in seizing shipments of electronic cigarettes. In short, the FDA can regulate the devices, but only as it would normal cigarettes – that is to say not very much.
Albany, New York – January, 2011 – The New York State General Assembly announced that it plans to pass a law banning the sales of all electronic cigarettes within its borders. Lawmakers failed to comment on whether they believed the devices were unhealthy. The only reason given was that until the FDA passed its own regulations over electronic cigarettes, they were unsure whether the state should allow the sales.
Washington, DC – February, 2011 – The FAA this month announced that it intends to ban the use of electronic cigarettes on airplanes. It aims to do so by applying the existing regulations that generally ban smoking on airplanes. This action is likely a result of the confusion of co-passengers, and flight attendants alike when people used the devices on planes.